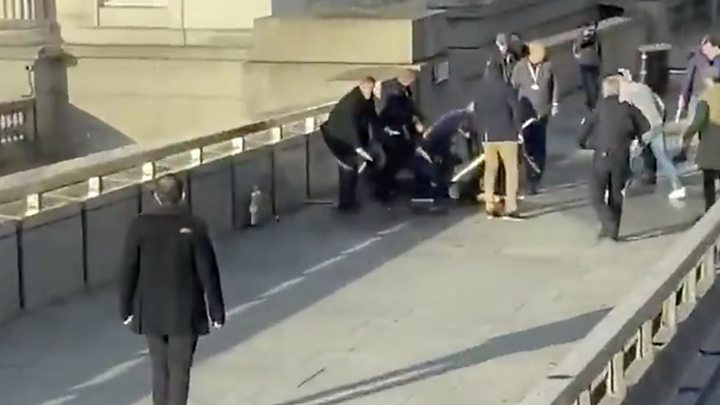 A man who stabbed two people to death and wounded three others in a "terror-related" attack was shot dead by police on London Bridge after he was held down by members of the public.
The Met Police said "At this time there is no evidence to suggest anybody else was involved in this attack".
The suspect, Usman Khan, 28, had been released from jail on licence in 2018, half way through a 16-year sentence for terrorism offences.
One of the victims has been named as Jack Merritt, who studied law at the University of Manchester before going to Cambridge to continue his studies.
The other fatality was a woman, according to Assistant Commissioner Neil Basu.
What happened?
The attack began at 13:58 GMT on Friday at Fishmongers' Hall, at the north end of London Bridge, where a conference on prisoner rehabilitation was taking place with Khan attending.
Mr Merritt was a course coordinator at the conference. His father said he was "a beautiful spirit who always took the side of the underdog".
A vigil has been held for him in Cambridge, where he helped run a university criminal justice programme for prisoners and students.
The attack started inside the building before continuing on to London Bridge.
Two men can be seen in a video holding the attacker back using a whale tusk, seized from a wall mount, and a fire extinguisher spray, before others step in to pin him down.
One man is seen walking away holding a large knife they had retrieved. British Transport Police said he was a plain clothes officer.
The people holding Khan down were moved away by police.
Khan was wearing a hoax explosive device, which the assistant commissioner said looked "very convincing". He was then shot.
What do we know about the attacker?
Mr Basu said Khan was released from jail on licence in 2018, half way through a 16-year sentence for terrorism offences.
He was convicted in 2012 after plotting with a group from Stoke-on-Trent, London and Cardiff.
They discussed attacking the London Stock Exchange and pubs in Stoke, and setting up a jihadist training camp in Pakistan.
One of the conditions of his release was that he should wear an electronic tag.
He also had to take part in the government's desistance and disengagement programme, the purpose of which is the rehabilitation of people who have been involved in terrorism. The Parole Board said it had no involvement in his release from jail.
Usman Khan had spent years preaching in Stoke and had links to the banned organisation al-Muhajiroun.
What is happening now?
Officers are carrying out two searches; in Stafford where Khan is believed to have lived, and in Stoke-on-Trent.
After leaving prison Khan initially lived at an "approved premises" on Wolverhampton Road, Stafford, now being searched by officers.
The Met is appealing for people who attended the conference, called Learning Together, at Fishmongers' Hall to contact them in confidence on 0800 789 321.
Mr Basu confirmed the force was treating the attack as a terrorist incident.
He said police were now going through at least 500 images and videos sent to them.
A wide police cordon would remain in the London Bridge area for some time as police carry out searches "to ensure there is no further threat", said Mr Basu.
However, Borough Market on the south side of London Bridge reopened.
The Met Police has increased patrols across London as a result of the attack.
The three wounded people remain in hospital. NHS England said two were now "stable" and the third person had less serious injuries.
The Queen sent "thoughts, prayers and deepest sympathies to all those who have lost loved ones" on behalf of herself and Prince Philip.